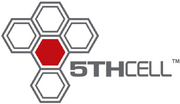 5th Cell is an independently owned video game developer founded in 2003 as 5th Cell Media, LLC. by Joseph M. Tringali, Jeremiah Slaczka and Brett Caird and currently develops video games for the Nintendo DS and Wii.[1]
Overview
Founded in 2003 by Joseph M. Tringali, Jeremiah Slaczka and Brett Caird, the company started out developing mobile games working with such publishers as THQ Wireless, JAMDAT Mobile (now EA Mobile) and UIEvolution (a former subsidiary of Square Enix).
On August 2, 2004 THQ Wireless announced it would publish 5th Cell's first three original Mobile games Siege, SEAL Team 6 and lastly Mini Poccha.[2]
In 2006 5th Cell transitioned into Nintendo DS and Casual game development. While 5th Cell has worked with licenses and work for hire in its past, its core focus has moved completely onto building innovative, original video game.
In an IGN interview with Michael Thomsen, Jeremiah Slaczka, the company's Creative Director, was asked "What kinds of games do you ultimately want to be known for?" He responded by saying:
Innovative games – we want to be known as a company that produces AAA content you can't get anywhere else from anyone else. So far, with both Drawn to Life and Lock's Quest, I think our products have lined up with that vision. We've completely switched our company's focus to original titles now. We don't do licensed games or work for hire anymore.[3]
On April 21, 2006 IGN announced 5th Cell's first Nintendo DS game Drawn to Life, an original title.[4]
On June 1, 2006 5th Cell announced its partnership with Merscom to publish D.N.A a PC casual game and also an original title.[5]
On May 9, 2007 THQ announced it would publish Drawn to Life an Action-Adventure/Platformer hybrid with the unique twist of the player drawing the hero and the world itself using the DS's touchpad. [6]
THQ released the game worldwide in 2007 and 2008. According to Next-Gen.biz from the game's launch (September 2007) until March 1, 2008 (6 months) the game had sold 820,000 units worldwide and was ranked 61st of the top 100 selling video games of the last 12 months.[7]
On April 2, 2008 THQ announced it was publishing 5TH Cell's next Nintendo DS game Lock's Quest an original Action-Strategy game where the player first builds defenses and then battle against an invading clockwork army all racing against the clock.
On December 5, 2008, 5th Cell unveiled its next Nintendo DS game, on IGN.com, Scribblenauts an Emergent/Action Puzzle game where the player can write anything they can think of to help them solve the puzzle.
On May 1, 2009, Warner Bros. Interactive Entertainment announced it would be publishing Scribblenauts.
On September 15, 2009, Scribblenauts was released in North America, with its Australian release being on September 30 and European release on October 9. According to the NPD Group, Scribblenauts sold 194,000 units in the United States during September 2009, following Mario & Luigi: Bowser's Inside Story and Kingdom Hearts: 358/2 Days in top Nintendo DS sales.[8]
Since Warner Brothers cancelled Scribblenauts: Fighting Worlds 5th Cell no longer develops Scribblenauts. The newest Scribblenauts game Scribblenauts Showdown was developed by Shiver Entertainment.
Gallery
References
External links