A10-10




Difficulty

Par

4

Game/Type

Action
Hint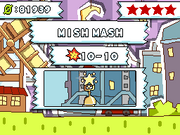 "Where the wind blows the Starite will drop!"
Solutions
Place a couple of Doors behind the Steel spike on the right. Place an Engineer next to the Blue Switch to flip it. The Starite should land on the top of a Door so it can be retrieved.
Place a 2 pipes on the right hand side of the room with spikes on the floor. Place them evenly. Then put on your wings or a Jetpack and go on top to turn the switch on. The wind should blow where the pipes are laying. now jump down and the wind will blow you where the Starite is.
Place an island on top of the spikes on the right. Then, use a pegasus to fly to the switch and activate it. Jump down to get the starite.
Community content is available under
CC-BY-SA
unless otherwise noted.