A10-6




Difficulty

Par

5

Game/Type

Acrion
Hint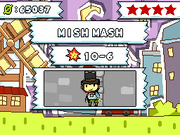 "Hanging by a thread!"
Solutions
In general this a simple 3 step stage that is loaded with randomness. You need: a flying steed (Pterodactyl, Pegasus, Roc) a cutting implement (Axe, Shears, Chainsaw) and luck. First, ride the steed while you are still tied up. Then, use the tool to get rid of the rope on you. It's okay if a piece is left. Finally, land on the box, drop the tool and open the box. Assuming the starite goes up, you will win!
Create a Pterosaur under Maxwell so he's riding it. This will allow you to get close enough to the Wooden Cage to open it, and grab the Starite after it lands on top.
Fly a UAV, and use any object to strike the rope and break it. carefully open the wooden cage, and try to get on top to grab the Starite. If you miss, and the it falls down to the lava, go after it, and you should "some how" grab it.
Community content is available under
CC-BY-SA
unless otherwise noted.