A5-11




Difficulty

Par

5

Game/Type

Action
Summary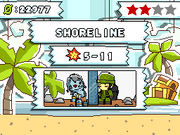 The Starite in this level is locked right above Maxwell, behind 2 red doors. each door is controlled by a red button. these buttons are in small chambers - one on each side of the Starite. Those buttons, though, are protected by green doors. One must remove those green doors in order to access the buttons.
Hint
"Maxwell can't help them directly!"
Solutions
Arm the Soldiers with weapons before pulling your switch.
Use a Black Hole to destroy the enemies.
Use Death to destroy the enemies.
Give soldiers Bazooka or rocket launcher
Give the man a magic wand.
Shrink Magic or Shrink Ray a Rock and put it above the Red buttons.
Community content is available under
CC-BY-SA
unless otherwise noted.