A6-3




Difficulty

Par

3

Game/Type

Action
Objects and NPCs: Lioness, Fire, Redwood, Rhinoceros, Crocodile (x2)
Hint
"High road, low road."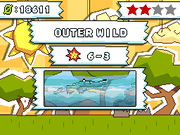 Solutions
On par, taking the high road

Eliminate the tiger (kill it with a Blob/Ooze/Death or use a Cupid Bow/Mind Control Device).
Eliminate the fire (drop water on it, place a rain cloud above, etc).
Run to the right, fall down.
Go close to the left edge (without falling in the water) and use a Grapple/Grappling Hook/

Fishing rod

to pick up the starite.
One-word solution

Write large air vent. Turn it facing right, blow the tiger and the fire off the ledge. If needed blow the tiger into the water. Use the vent to blow the starite out to the right, then pick it up.