Line 6:
Line 6:
 

|Row 2 info = 7

 

|Row 2 info = 7

 

|Game/Type = Action}}

 

|Game/Type = Action}}

 
+

'''Objects and NPCs:''' [[Diamond (Object)|Diamond]] (x3), [[Mine (Explosive)|Mine]] (x4), [[Pipe Chunk]] (x4), [[Red Button]], [[Secret Agent]], [[Security Camera]] (x4), [[Steel Door Red]], [[Steel Gate]] (x2), [[Stun Gun]], [[Target]] (x2)

 

==Hint==

 

==Hint==

 

"It may be easier to bring him the diamond!'[[File:A8-10_top.png|thumb]]

 

"It may be easier to bring him the diamond!'[[File:A8-10_top.png|thumb]]

 

==Solutions==

 

==Solutions==

 
+
−

#Spawn a [[pterodactyl]], and open the red door.

 
 
+

#Throw a [[Bouncy Ball|bouncy ball]] in the red button.

−

#Fly up past the security camera, staying as far away from the falling bomb as possible.

 
 
+

#Use a [[jetpack]], [[wings]] or [[Backpack Helicopter|backpack helicopter]] to fly over the falling mine.

−

#Get off the pterodactyl and pick up the diamond and run under the next two cameras (bombs will fall if you are on the pterodactyl, none will fall if you are not).

 
−

#Bring the pterodactyl over after you get past the cameras, and ride it up to where the [[agent]] is.

+

# the you the , .

−

#Use a [[Gun|gun]] to shoot the target, the metal gate will rise and grab the [[Starite]].

+

#Use the the metal gate will rise and grab the [[Starite]].

 
+
 

[[Category:Levels]]

 

[[Category:Levels]]

 

[[Category:Action Levels]]

 

[[Category:Action Levels]]
---
Latest revision as of 04:40, 31 October 2020
A8-10




Difficulty

Par

7

Game/Type

Action
Objects and NPCs: Diamond (x3), Mine (x4), Pipe Chunk (x4), Red Button, Secret Agent, Security Camera (x4), Steel Door Red, Steel Gate (x2), Stun Gun, Target (x2)
Hint
"It may be easier to bring him the diamond!'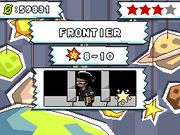 Solutions
Throw a bouncy ball in the red button.
Use a jetpack, wings or backpack helicopter to fly over the falling mine.
Wait the security cameras to see you and drop the mines, throw the diamond in the mines to destroy it.
Use the bouncy ball or the diamond to hit the targets. The metal gate will rise and you can grab the Starite.
Community content is available under
CC-BY-SA
unless otherwise noted.