A8-10




Difficulty

Par

7

Game/Type

Action
Hint
"It may be easier to bring him the diamond!'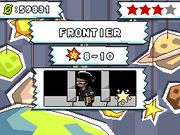 Solutions
Spawn a pterodactyl, and open the red door.
Fly up past the security camera, staying as far away from the falling bomb as possible.
Get off the pterodactyl and pick up the diamond and run under the next two cameras (bombs will fall if you are on the pterodactyl, none will fall if you are not).
Bring the pterodactyl over after you get past the cameras, and ride it up to where the agent is.