(6 intermediate revisions by one other user not shown)
Line 1:
Line 1:
 
+

{{Template:Levelinfobox

 
+

|image = File:A8-1.png

 
+

|imagewidth = 256

 
+

|Difficulty = [[File:Stars3.png]]

 
+

|Par = 5

 
+

|Game/Type = Action}}'''Objects and NPCs:''' [[Big Steel Box]], [[Enemy]], [[Gun]], [[Large Cracked Wood Platform]], [[Motor]], [[Phoenix]], [[Rope]] (x2), [[Scissors]], [[Steel Cage]], [[Steel]] (x2), [[Thunderstorm]]

 

==Hint==

 

==Hint==

 
+

[[File:A8-1_top.png|thumb]]

 

"The dawn of the fire phoenix!"

 

"The dawn of the fire phoenix!"

−

 
 

==Solutions==

 

==Solutions==

 

* Drop a [[Blob]]/[[Ooze]]/[[Death]] on the enemy and the phoenix.

 

* Drop a [[Blob]]/[[Ooze]]/[[Death]] on the enemy and the phoenix.

 
+

*Grab the rope hanging a cage and move to the left. Release it and the rope will stay suspended and the cage also clears the path.

−

* Spawn a [[Pterodactyl]]/[[Pterodactylus]]/[[Pegasus]]. Attach the wood platform and fly over to pick up the starite.

+

* Spawn a [[Pterodactyl]]/[[Pterodactylus]]/[[Pegasus]]. the wood platform and fly over to pick up the .

 

[[Category:Levels]]

 

[[Category:Levels]]

 

[[Category:Action Levels]]

 

[[Category:Action Levels]]

 
+

[[Category:Scribblenauts levels]]

 
+

[[Category:Frontier]]
---
Latest revision as of 23:53, 30 October 2020
A8-1




Difficulty

Par

5

Game/Type

Action
Objects and NPCs: Big Steel Box, Enemy, Gun, Large Cracked Wood Platform, Motor, Phoenix, Rope (x2), Scissors, Steel Cage, Steel (x2), Thunderstorm
Hint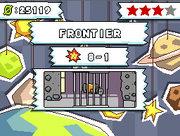 "The dawn of the fire phoenix!"
Solutions
Grab the rope hanging a cage and move to the left. Release it and the rope will stay suspended and the cage also clears the path.
Spawn a Pterodactyl/Pterodactylus/Pegasus. Attack the wood platform and carefully pass the thunderstorm and fly over to pick up the Starite.
Community content is available under
CC-BY-SA
unless otherwise noted.