Line 1:
Line 1:
−

{{Incomplete}}{{Template:Level ImageNeeded}}

+

{{Template:

 
+

|image = File:A9-1.png

 
+

|imagewidth = 256

 
+

|Difficulty = [[File:Stars3.png]]

 
+

|Row 2 title = Par

 
+

|Row 2 info = 4

 
+

|caption = The Vending Machine Method

 
+

|Game/Type = Action}}

 

==Hint==

 

==Hint==

 
+

[[File:A9-1_top.png|thumb]]

 

"Ice-breaker!"

 

"Ice-breaker!"

 

==Solutions==

 

==Solutions==

−

Use a black hole to get rid of the other ice blocks.

+

Use a black hole to get rid of the other ice blocks.

 
⚫
−
 
⚫
 
 

[[Category:Levels]]

 

[[Category:Levels]]

 

[[Category:Action Levels]]

 

[[Category:Action Levels]]
---
Revision as of 01:02, 30 August 2013
A9-1


The Vending Machine Method

Difficulty

Par

4

Game/Type

Action
Hint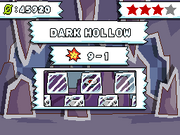 "Ice-breaker!"
Solutions
Use a black hole to get rid of the other ice blocks. 

You may also use a flamethrower to melt out the starite.

There is also a technique where you can handcuff the Starite and attach it to a Vending Machine. Instead of tapping Attach, tap Fill, drag it back to you, and empty it and the Starite will pop out along with a piece of candy.
Community content is available under
CC-BY-SA
unless otherwise noted.