A9-2




Difficulty

Par

2

Game/Type

Action
Hint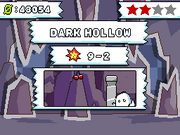 "This place is packed, man!"
Solutions
(Zero objects) You can reach the Starite in this level simply by running. The trick is to be quick and to not allow Maxwell to jump when falling off a ledge. This requires clicking as low as possible and making sure Maxwell immediately turns in the new direction when on the next platform.
Type just one God and put it outside the Ghost(s), just jump down and see how much fun it is, then put the God to the Ghost(s), one by one, you should have won.
Use a Proton Pack to shoot the ghosts when the come out of the cage.
Kill the ghosts with holy water.
Trivia
This hint, and the level, is a reference to the popular video game, Pacman.
Community content is available under
CC-BY-SA
unless otherwise noted.