Archer


A male Archer from Scribblenauts Unlimited.

Type

People

Behavior

Shoots at Targets

Synonyms

Ranger, Scout, Balistarius, Bow Hunter, Bowman, Bowyer

Available in

Scribblenauts, Super Scribblenauts, Scribblenauts Remix, Scribblenauts Unlimited, Scribblenauts Unmasked, Scribblenauts Showdown, Scribblenauts Mega Pack
An Archer is dressed in green and holds a Bow. They will shoot at a Target.
It is one of the items into which a Random object will transform.
Female Variant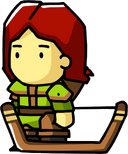 The female Archer has red hair and doesn't wear a green hat like the male Archer.
Community content is available under
CC-BY-SA
unless otherwise noted.