Beta elements are objects, graphics, or basically anything in a game that are not used.
Maxwell's sister is a beta character in Scribblenauts who was removed for unknown reasons. Despite her
removal, her sprite still appears on the sprite sheet of both Scribblenauts and Super Scribblenauts. However, a character with the design of this early version of Maxwell's sister can be summoned in Scribblenauts Unlimited by way of spawning any variation of a Doppelganger with the "Female" adjective.
Also shown on the sprite sheet for Super Scribblenauts are shown that there was originally more constellations. All three of these are in Scribblenauts Remix.
There were multiple merits included in Scribblenauts but not used.
At E3 2009 and 2010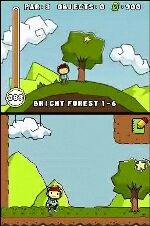 Both Scribblenauts and Super Scribblenauts had playable demos in their respective E3s. The famous "God vs. the Kraken" video showed a Flamethrower that shot out a straight line of flame, not multiple moving flames. An early level was also shown. It has a different top-screen design than the final.
There are a few differences between the E3 version of Super Scribblenauts and the actual game (e.g., the adjective telekinetic makes the affected person's head bigger and allows them to fly, as opposed to only allowing flight in the E3 game)
Beta Objects
Many objects went through beta stages. Some objects were removed completely. Many of these beta objects are dinosaurs or monsters, and had only dot eyes.

Known Beta Objects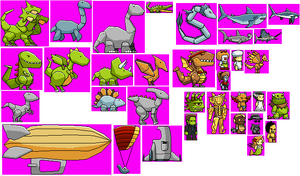 Community content is available under
CC-BY-SA
unless otherwise noted.