Bridle is a part of the harness of a horse. It's one of the only pieces of clothing that can be worn by a specific type of creature.
It shares it's sprite with the rein and the reins, however it only has 25 health points.
Behavior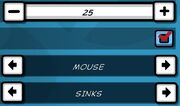 This object can't be worn by
Maxwell
, but some specific types of horse can equip it. These being:
Community content is available under
CC-BY-SA
unless otherwise noted.