(11 intermediate revisions by one other user not shown)
Line 1:
Line 1:
 
+

{{infobox

⚫
 
 
+

|image = File:Clown_Car.png

 
+

|imagewidth = 200

 
+

|caption = Scribblenauts Unlimited

 
+

|Type = Vehicle

 
+

|Behavior = Contains infinite [[Clown]]s (Three in any game before Scribblenauts Unlimited), moves slowly

 
+

|Synonyms = None known

 
+

}}

 
+
 
⚫
 
+
 
+

In [[Scribblenauts Unlimited]], performing the action '''Empty''' on the car will generate a randomly colored [[clown]]. There is seemingly no limit on the number of clowns that can be produced.

 
+
 
+

[[File:Empty_Clown_Car.png|thumb|left|A repeatedly emptied Clown Car]]

 

[[Category:Vehicles]]

 

[[Category:Vehicles]]

−

[[Category:Words]]

+

[[Category:]]

 
+

[[Category:Cars]]
---
Latest revision as of 17:58, 26 April 2014
A Clown Car is a small colorful car, and it seems to be a Clown's favorite type of car, because clowns always ride it. It is insanely spacious for a tiny car, as it can hold two cars, and when spawned, three clowns are hidden inside.
In Scribblenauts Unlimited, performing the action Empty on the car will generate a randomly colored clown. There is seemingly no limit on the number of clowns that can be produced.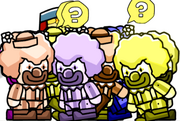 Community content is available under
CC-BY-SA
unless otherwise noted.