A
Flamethrower
is a gun that shoots fire. It can burn stuff, or set them on fire, and it melts icy objects.
At E3 2009, Flamethrowers had a different appearance. Instead of shooting out fire, a constant line of fire was there.
In Scribblenauts Remix, if you make a smelly flamethrower, the flames will be gravity-affected.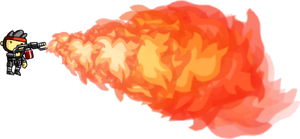 Gallery
Community content is available under
CC-BY-SA
unless otherwise noted.