(categories)

 

(13 intermediate revisions by 4 users not shown)
Line 2:
Line 2:
 

|Box title = Ice Block

 

|Box title = Ice Block

 

|Row 1 title = Type

 

|Row 1 title = Type

−

|Row 1 info = ?

+

|Row 1 info =

 

|Row 2 title = Behavior

 

|Row 2 title = Behavior

−

|Row 2 info = none

+

|Row 2 info =

 

|Row 3 title = Synonyms

 

|Row 3 title = Synonyms

−

|Row 3 info =

+

|Row 3 info =

 

|Row 4 title = Available in

 

|Row 4 title = Available in

 
⚫
−

|Row 4 info = [[Scribblenauts]], [[Super Scribblenauts]], [[Scribblenauts Remix]]

 
 
+

|imagewidth = 150|caption = An Ice Block in Scribblenauts Unlimited}}An '''Ice Block''' is a block of [[Ice]]. It puts out [[Fire]]s of all kinds.

⚫
 
 
+

==Sizes==

−

|imagewidth = 256

 
 
+

[[File:Scribblenauts_item_ice_block.gif|thumb|left|An Ice Block in Scribblenauts]]

−

}}

 
 
+

There are two variants of the ice block that can be created by adding 'big' or 'huge' to the word (ice block big, ice block huge). These are independent of and can be combined with size adjectives.

−

A block of ice. It will put out fires. It can be broken with an [[Ice Pick]] or any other "weapon".

 
−
 
−

See also [[Ice Block Big]] and [[Ice Block Huge]].

 
−

[[Category:Words]]

 
 

[[Category:Level Elements]]

 

[[Category:Level Elements]]

−

[[Category:Materials]]

+

[[Category:]]
---
Latest revision as of 16:22, 23 September 2019
An Ice Block is a block of Ice. It puts out Fires of all kinds.
Sizes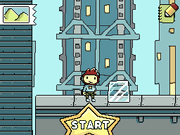 There are two variants of the ice block that can be created by adding 'big' or 'huge' to the word (ice block big, ice block huge). These are independent of and can be combined with size adjectives.
Community content is available under
CC-BY-SA
unless otherwise noted.