Ice Block




Type

fillable

Behavior

none

Synonyms

none

Available in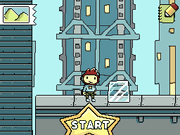 A block of ice. It will put out fires. It can be broken with an Ice Pick or any other "weapon".
Sizes
An ice block can be in 3 different sizes by adding "big" or "huge" after ice block without using any adjectives. E.g.: Ice block, Ice block big and Ice block huge.
If you try to grow a good-sized iceblockhuge, the size will not increase but the adjective will change. It is the biggest object in Scribblenauts.