Line 24:
Line 24:
 

[[Maxwell]]'s parents were also adventurers, before they settled down and had kids. Each child was given a magical item that [[Maxwell]]'s parents had gotten from their travels. They were the ones who gave Maxwell his notepad

 

[[Maxwell]]'s parents were also adventurers, before they settled down and had kids. Each child was given a magical item that [[Maxwell]]'s parents had gotten from their travels. They were the ones who gave Maxwell his notepad

 
 
−

==List of Brothers==

+

==List of ==

 

#[[Artie]] (found in [[The Virgule Gallery]])

 

#[[Artie]] (found in [[The Virgule Gallery]])

 

#[[Bruiser]] (found in [[Payper N. Penitentiary]])

 

#[[Bruiser]] (found in [[Payper N. Penitentiary]])
---
Revision as of 17:41, 12 May 2018
Maxwell's Family consists of Maxwell, his twin sister Lily, 40 siblings, and their parents. Maxwell's family (except Maxwell) debuted in Scribblenauts Unlimited.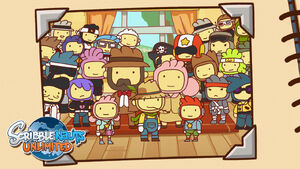 Main Members
Maxwell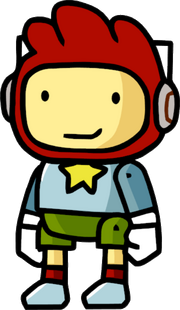 Main article: Maxwell
Maxwell (pictured to the right) is the main character of the series, he is featured in all of the Scribblenauts titles. 
Lily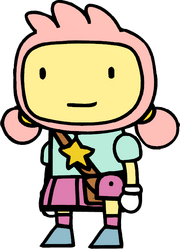 Main article: Lily (character)
Lily (pictured in the image to the right) is Maxwell's twin sister and the narrator of the story. In the photo below, you can see that Lily bears a strong resemblance between her mother and Maxwell. Maxwell and Lily have a close relationship. She doesn't appear until Scribblenauts unlimited. Nor do any of Maxwell's relatives.
Parents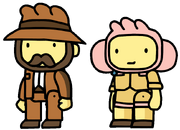 Main article: Edgar and Julie
Maxwell's parents were also adventurers, before they settled down and had kids. Each child was given a magical item that Maxwell's parents had gotten from their travels. They were the ones who gave Maxwell his notepad
List of Siblings
Trivia
Edgar, Julie, and Lily can be spawned using "@" objects, cloning machine or teleporter.
Edgar and Julie had 42 children, which is the Answer to the Ultimate Question of Life, The Universe, and Everything in Douglas Adams' The Hitchhiker's Guide to the Galaxy series.
All of Maxwell's brothers can be spawned with the notebook.
Mix and Mox are the only brothers that the player can unlock at the same time.
Most of the areas have either 1 or 2 of Maxwell's brothers.
Lily is unlockable if the player has all 60 Starites.
Also available as avatars in Scribblenauts Unlimited are Edgar and Julie. The player can get them by collecting every starite in the game.
Brothers can be spawned in Unmasked, but can only be played as when created in the Avatar Creator.
Buzz (found in Kana Craters) is based off Buzz Lightyear from the Toy Story movie series.
Citations
[1] http://www.facebook.com/permalink.php?story_fbid=477879612225212&id=131788223501021
Gallery
Community content is available under
CC-BY-SA
unless otherwise noted.