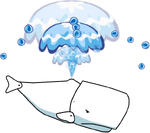 Moby Dick is a famous whale that was inspired by a sea-captains real survival story. This object was inspired by the book Moby Dick. Oddly, he is scared of Whalers. He is also ridable, acts like a normal whale, and will eat fish.
He has angry eyes making him appear dangerous while he is actually peaceful. After a random period of time, he will shoot a water fountain from his back.
Gallery
Community content is available under
CC-BY-SA
unless otherwise noted.