(One intermediate revision by one other user not shown)
Line 1:
Line 1:
 
+

{{Infobox

−

'''Napalm''' is a bomb that has a chemical that burns and creates fire.

 
 
+

|Box title = Napalm

−

{{stub}}

 
 
+

|image = Image:Napalm.png

⚫
 
 
+

|imagewidth = 120

 
+

|caption = in Scribblenauts Unlimited

 
+

|Row 1 title = Type

 
+

|Row 1 info = Weapon, Explosive

 
+

|Row 2 title = Behavior

 
+

|Row 2 info = Detonates when interacted with it.

 
+

|Row 3 title = Synonyms

 
+

|Row 3 info = none

 
+

|Row 4 title = Available in

 
+

|Row 4 info = Scribblenauts, Super Scribblenauts, Scribblenauts Remix, Scribblenauts Unlimited, Scribblenauts Unmasked

 
+

}}'''Napalm''' is a flammable liquid that used in warfare. It is a mixture of a gelling agent and either [[gasoline]] (petrol) or a similar fuel. This powerful liquid was used to load [[flamethrower|flamethrowers]], [[bomb|bombs]] and [[tank|tanks]]. Besides being used to burn infra-structures and enemy soldiers, the one in-game just explodes like any other explosive.

 
+
 
+

== Behavior ==

 
+

* When this object is interacted with, it detonate after a few seconds.

 
+

* [[Soldier|Soldiers]], [[Terrorist|Terrorists]] and [[Serial Killer|Serial Killers]] will activate the explosive when they see it.

 
+
 
+

== Gallery ==

 
⚫
 

[[Category:Words]]

 

[[Category:Words]]

 

[[Category:Weapons]]

 

[[Category:Weapons]]

 
+

[[Category:Objects]]

 
+

[[Category:Explosives]]

 
+

[[Category:Projectiles]]
---
Latest revision as of 19:07, 19 September 2019
Napalm


in Scribblenauts Unlimited

Type

Weapon, Explosive

Behavior

Detonates when interacted with it.

Synonyms

none

Available in

Scribblenauts, Super Scribblenauts, Scribblenauts Remix, Scribblenauts Unlimited, Scribblenauts Unmasked
Napalm is a flammable liquid that used in warfare. It is a mixture of a gelling agent and either gasoline (petrol) or a similar fuel. This powerful liquid was used to load flamethrowers, bombs and tanks. Besides being used to burn infra-structures and enemy soldiers, the one in-game just explodes like any other explosive.
Behavior
Gallery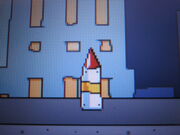 Community content is available under
CC-BY-SA
unless otherwise noted.