(new image)

 

(19 intermediate revisions by 2 users not shown)
Line 1:
Line 1:
 
+

{{Template:Remix}}

⚫
 
 
+

{{Levelinfobox

−

{|cellspacing="1" cellpadding="1" border="1"

 
 
+

|Box title = P1-1

−

|-

 
 
+

|image = Image:P1-1.png

−

!scope="col"|Difficulty

 
 
+

|imagewidth = 255

−

!scope="col"|Par

 
 
+

|Row 1 title = Difficulty

−

|-

 
−

|[[File:Stars1.png]]

+

|[[File:Stars1.png]]

 
+

|Row 2 title = Par

−

|3

 
 
+

|Row 2 info = 3

−

|}

 
 
+

|Row 3 title = Game/Type

 
+

|Row 3 info = Puzzle}}

 
+

[[File:Scribios.jpg|thumb|300px|P1-1 in Remix]]

 
⚫
 
+

'''P1-1''' is the first level of [[The Gardens]] in Scribblenauts.

 
+
 
+

'''Objects and NPCs:''' [[Flower]], [[Tree]], [[Sun]], [[Policeman]], [[Chef]], [[Fireman]], [[Doctor]]

 

==Hint==

 

==Hint==

 
+
 

"Give two of them what they would use in their hands."

 

"Give two of them what they would use in their hands."

 
 
 

==Solution==

 

==Solution==

−

Write two objects, it can be the same object if two people would it (e.g. giving a [[Scalpel]] to both the chef and the doctor will work).

+

Write two objects, it can be the same object if two people would it (e.g. giving a [[Scalpel]] to both the chef and the doctor will work).

 
 
 

*[[Policeman]]

 

*[[Policeman]]

 

** Any melee or projectile weapon.

 

** Any melee or projectile weapon.

 
+

** Any form of money (e.g. [[Cash|cash]], [[Coin|coin]], [[cash|loot]]) or valuable item (e.g. [[Gold|gold]], [[Diamond|diamond]])

−

** Also [[Handcuffs]], [[Donut]] or [[Nightstick]].

+

** Also [[Handcuffs]], [[Donut]] or [[Nightstick]].

 
+

** Anything found in a crime scene.

 
 
 

*[[Chef]]

 

*[[Chef]]

 

** Anything edible (any food, ingredient or spice). It's fine if the chef eats it.

 

** Anything edible (any food, ingredient or spice). It's fine if the chef eats it.

−

** Any kitchen utensil ([[Knife]], [[Fork]], [[Spoon]], [[Bowl]], [[Whisk]], [[Frying Pan]] or [[Plate]]).

+

** Any kitchen utensil ([[Knife]], [[Fork]], [[Spoon]], [[Bowl]], [[Whisk]], [[Frying Pan]] or [[Plate]]).

 
 
 

* [[Fireman]]

 

* [[Fireman]]

−

** [[Axe]], [[Fire Extinguisher]] or [[Hose]].

+

** [[Axe]], [[Fire Extinguisher]] or [[Hose]].

 
 
 

* [[Doctor]]

 

* [[Doctor]]

 
+

** Any body part that can be held (e.g. [[Finger|finger]], [[Hair|hair]], [[Jaw|jaw]], all bones, head, leg etc.)

−

** [[Stethoscope]], [[Syringe]], [[Pills]], [[Scalpel]], [[Journal]], [[Thermometer]], [[Bandage]], [[Gauze]], [[Medicine]].

+

** [[Stethoscope]], [[Syringe]], [[Pills]], [[Scalpel]], [[Journal]], [[Thermometer]], [[Bandage]], [[Gauze]], [[Medicine]].

 
 
 
+

== Trivia==

−

Note: according to the game the doctor would not use a [[PDA]], [[Laptop]], [[Pen]], [[Book]], [[Pager]] or [[Cellphone]].

 
 
+

*This is level 1-2 in Remix.

⚫
 
 

[[Category:Puzzle Levels]]

 

[[Category:Puzzle Levels]]

−

[[Category:World 1]]

+

[[Category: ]]

 
+

[[Category:The Gardens]]

 
⚫
 
+

[[Category:Scribblenauts Remix Levels]]

 
+

[[Category:Scribblenauts Remix World 1]]
---
Latest revision as of 03:11, 19 April 2021
P1-1




Difficulty

Par

3

Game/Type

Puzzle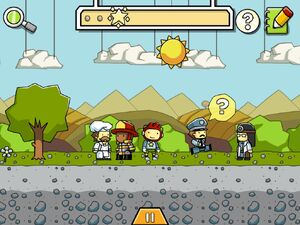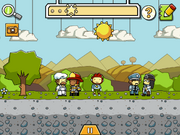 P1-1 is the first level of The Gardens in Scribblenauts.
Objects and NPCs: Flower, Tree, Sun, Policeman, Chef, Fireman, Doctor
Hint
"Give two of them what they would use in their hands."
Solution
Write two objects, it can be the same object if two people would both use it (e.g. giving a scalpel to both the chef and the doctor will work).
Trivia
This is level 1-2 in Remix.
Community content is available under
CC-BY-SA
unless otherwise noted.