(Expanded solution, added notes.)

Line 12:
Line 12:
 
 
 

==Solution==

 

==Solution==

 
+

Write two objects, it can be the same object if two people would it (e.g. giving a [[Scalpel]] to both the chef and the doctor will work).

⚫
 
−

* The [[Doctor]] can take a [[Stethoscope]], a [[Syringe]], [[pills|Pills]] or [[Scalpel]].

 
⚫
 
−

* The [[Policeman]] can take [[Handcuffs]],[[Donut| Donut]], [[Nightstick]] or a [[Gun|gun]].

 
 
 
 
+

*[[Policeman]]

−

Different combinations of these will get you 7 different solutions.

 
 
+

** Any melee or projectile weapon.

 
+

** Also [[Handcuffs]], [[Donut]] or [[Nightstick]].

 
+
 
+

*[[Chef]]

 
+

** Anything edible (any food, ingredient or spice). It's fine if the chef eats it.

 
⚫
 
+
 
+

* [[Fireman]]

 
⚫
 
+
 
+

* [[Doctor]]

 
+

** [[Stethoscope]], [[Syringe]], [[Pills]], [[Scalpel]], [[Journal]], [[Thermometer]], [[Bandage]], [[Gauze]], [[Medicine]].

 
+
 
+

Note: according to the game the doctor would not use a [[PDA]], [[Laptop]], [[Pen]], [[Book]], [[Pager]] or [[Cellphone]].

 

[[Category:Levels]]

 

[[Category:Levels]]

 

[[Category:Puzzle Levels]]

 

[[Category:Puzzle Levels]]
---
Revision as of 17:17, 4 November 2011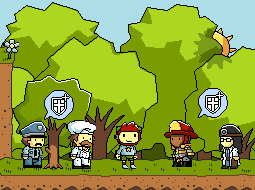 | Difficulty | Par |
| --- | --- |
| | 3 |
Hint
"Give two of them what they would use in their hands."
Solution
Write two objects, it can be the same object if two people would it (e.g. giving a Scalpel to both the chef and the doctor will work).
Note: according to the game the doctor would not use a PDA, Laptop, Pen, Book, Pager or Cellphone.
Community content is available under
CC-BY-SA
unless otherwise noted.