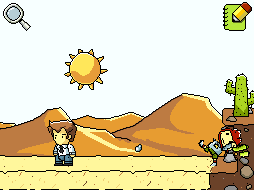 | Difficulty | Par |
| --- | --- |
| | 2 |
Hint
"Refresh him!"
Solutions
Note: most of these solutions are one word (under par).
A Drink Is Refreshing
Go For A Swim
Raindrops Keep Falling On My Head
Sit In The Shade
Large Air Vent Wins Every Level

Yes, even this one. A little breeze (from Fan (Tool), etc) will also refresh him.