P1-9




Difficulty

Par

2

Game/Type

Puzzle
Hint
"Knock 'em all off without cheating or guns!"
Remix: "Knock over the bottles"
Solutions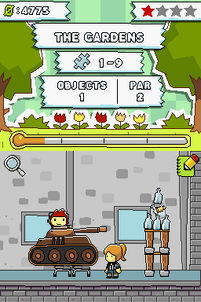 Throw any of the following at (or drop them on top of) the Bottles:
Note: Cheating involves jumping over to the Bottles and knocking them over without using any objects. Also, using wings and going near them is also cheating. Everything else is ignored
This level reappears in Remix as 6-6. However, it cares much less about cheating. Only guns are banned. This means you can use cannon, grenade, even nukes (Glitch: Using a nuke and standing under where the Starite will be will cause Remix to turn black)
Bug: In Remix, you only have to destroy or move the top bottle.if you destroy the oters and the top botlle are 0 damage the game will stop.
Lasso
You can also use non-gun electric items and attacking the wooden bottoms. It will set fire, which will spread and break the bottles.
Cattle Prod
Defibrillator
Community content is available under
CC-BY-SA
unless otherwise noted.