P10-8




Difficulty

Par

6

Game/Type

Puzzle
Hint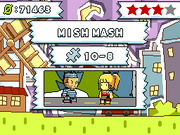 "Three prisoners have escaped! They're wanted dead or alive!"
Solutions
Place a cop by each prisoner to kill each of them.
Kill them yourself with a weapon.
Place any "hostile creature" (something that attacks automatically, such as a slime) next to each of them to kill them.
Alternatively, use a helicopter with a rope attached to the bottom of it.
Where is the prisoner that ran to the left of the screen?
He is one of those people by the building... (the kid on the far left, closest to the building)
Attack him or carry him to the prison, Maxwell should express a happy emotion if it was done right.
Community content is available under
CC-BY-SA
unless otherwise noted.