P5-8




Difficulty

Par

5

Game/Type

Puzzle
Hint
"Win the race!"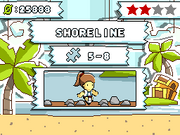 Solutions
[zero object solution] If your reactions are great, it is possible to dodge all of the objects intended to hurt you.
Place a wall in front of the athlete, then avoid the falling objects or destroy them with a Black Hole. The third objects are dynamite and can be destroy with a match. Then run to the end and grab the trophy to make the Starite appear.
Community content is available under
CC-BY-SA
unless otherwise noted.