P8-1




Difficulty

Par

3

Game/Type

Puzzle
Hint
"Trade something for the martian samples and return them to the astronaut!"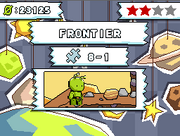 Solution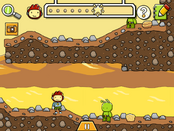 Write an item to help you fly around (e.g. Wings/Winged Sandals/Helibackpack).
Write Gold/Diamond or any other valuable items and carry it to each Martian. Once the question mark appears above them, they are no longer hostile. You can pick up the sample and bring it back to the astronaut. The same item can be used for all three Martians.
Once all three samples are carried back to the astronaut, the starite will appear.
Trivia
This is Level 9-4 in Scribblenauts Remix.
It's possible to get the two bottom martians to fight each other by taking one of their rocks, luring them close to each other, and giving them each other's rocks.
Community content is available under
CC-BY-SA
unless otherwise noted.