P8-9




Difficulty

Par

5

Game/Type

Puzzle
Hint
"Open the safe but watch out for the security cameras!"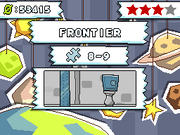 Solutions
One Item to Press Them All (One-word solution)

A Drawbridge will neatly press all three buttons, and you can run over to get the starite.

Be The Button

Alternatively, place an item that presses two buttons and stand on the third one. Be sure to do it quickly before the security guard catches you.

Nice And Slow

If you prevent the guard from getting to you (e.g. with a Wall), you can take your time and place two or three smaller items on each button.

Quick and No Harm

Place a wall between Maxwell and the police, then place a drawbridge on the buttons. Cross over the bridge and open the safe.
Community content is available under
CC-BY-SA
unless otherwise noted.