P9-5




Difficulty

Par

3

Game/Type

Puzzle
Hint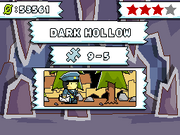 "Guide the postman so he can deliver the mail, but don't harm the Werewolf!"
Solutions
Use a flying vehicle and hook up to the postman with a rope etc (or use a helicopter which can take him as a passenger), and fly him to the house.
Write a Full Moon to turn the Werewolf into a Man, which does not count as harming him. Oddly, this also works with a regular Moon.
Use a Tranquilizer Gun to put him to sleep.
For a more complicated solution, write some objects which allow you to walk over the Werewolf, although this will take over par.
Community content is available under
CC-BY-SA
unless otherwise noted.