(objects and npcs)

 

(5 intermediate revisions by one other user not shown)
Line 1:
Line 1:
−

{{Remix}}

+

{{Remix}}

−
 
 

{{Template:Levelinfobox

 

{{Template:Levelinfobox

 

|image = File:P9-8.png

 

|image = File:P9-8.png

 

|imagewidth = 256

 

|imagewidth = 256

 

|Difficulty = [[File:Stars3.png]]

 

|Difficulty = [[File:Stars3.png]]

−

|Row 2 title = Par

+

| =

 
+

|Game/Type = Puzzle}}'''Objects and NPCs:''' [[Armoire]], [[Bed]], [[Bookcase]], [[Chair]] (x2), [[Chandelier]], [[Coffee Table]], [[DVD]], [[Fixed Ladder]] (x4), [[Ghost]] (x3), [[Hat Stand]], [[Lamp]], [[Maid]], [[Recliner]], [[Refrigerator]], [[Sofa]], [[Statue]] (x2), [[TV Stand]], [[TV]], [[Table]]

−

|Row 2 info = 4

 
−

|Game/Type = Puzzle}}

 
 

== Hint ==

 

== Hint ==

 

[[File:P9-8_top.png|thumb]]

 

[[File:P9-8_top.png|thumb]]

Line 16:
Line 14:
 

* Place any [[food]] near the right chair on the second level.

 

* Place any [[food]] near the right chair on the second level.

 

* Place any [[:Category:Musical Instruments|sound producing item]] (e.g. a musical instrument) near the CD on the third level.

 

* Place any [[:Category:Musical Instruments|sound producing item]] (e.g. a musical instrument) near the CD on the third level.

 
+

'''Note:''' In Remix, you should place ''[[immovable]] [[wood]]'' or ''[[immovable]] [[Steel Door|steel door]]'', so the furniture will not fall down.

 
 
 

==Remix==

 

==Remix==

 
 
−

This level also appears in Scribblenauts Remix. However, there is a glitch that the objects will fall off the screen and fail the level.

+

This level also appears in Scribblenauts Remix. However, there is a glitch that the objects will fall off the screen and fail the level.

 

[[Category:Levels]]

 

[[Category:Levels]]

 

[[Category:Puzzle Levels]]

 

[[Category:Puzzle Levels]]

Line 25:
Line 24:
 

[[Category:Dark Hollow]]

 

[[Category:Dark Hollow]]

 

[[Category:Scribblenauts Remix Levels]]

 

[[Category:Scribblenauts Remix Levels]]

 
+

[[Category:Scribblenauts Remix World 13]]
---
Latest revision as of 06:07, 1 November 2020
P9-8




Difficulty

Par

4

Game/Type

Puzzle
Objects and NPCs: Armoire, Bed, Bookcase, Chair (x2), Chandelier, Coffee Table, DVD, Fixed Ladder (x4), Ghost (x3), Hat Stand, Lamp, Maid, Recliner, Refrigerator, Sofa, Statue (x2), TV Stand, TV, Table
Hint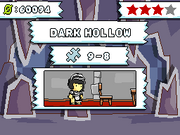 "Three ghosts named Mr. Chef, Ms. Fashion and Mr. Jazz haunt certain objects. Find them!"
Solutions
Place any wearable item near the lamp on the first level.
Place any food near the right chair on the second level.
Place any sound producing item (e.g. a musical instrument) near the CD on the third level.
Note: In Remix, you should place immovable wood or immovable steel door, so the furniture will not fall down.
Remix
This level also appears in Scribblenauts Remix as 13-2. However, there is a glitch that the objects will fall off the screen and fail the level.
Community content is available under
CC-BY-SA
unless otherwise noted.