The Paladin is one of the standard playable character classes in most editions of the Dungeons & Dragons fantasy role-playing game as well as other RPG such as Dragon Quest and Final Fantasy.
The Paladin is a holy knight, crusading in the name of good and order, and is a divine spellcaster. He spawns holding a Zanbato.
Before Scribblenauts Unlimited, Paladin is a synonym for Knight.
Female Variant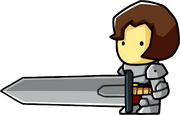 A female paladin has brown hair and the armor lacks the white clothing with a coat of arms.
Community content is available under
CC-BY-SA
unless otherwise noted.