The
Propeller
is a mechanical device for propelling a
boat
or
aircraft
.
Uses
Pre-Unlimited
This object does absolutely nothing. When you click on it, Maxwell will play a fiddle animation, however nothing will happen.
Post-Unlimited
When this object is created, it will create wind that can pushes objects away from it. It's a quite powerful currency, capable of pulling elephants.
Maxwell can equip this object, making the air currency move alongside the player. This object works underwater.
Glitches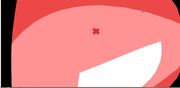 In Scribblenauts Unlimited, in the Object Editor, if you grow it to the maximum size, it will fill up the entire screen.
Community content is available under
CC-BY-SA
unless otherwise noted.