Rabbits are small, white, long-eared, mammals that eat plants and have both a very low attack and defense. If two rabbits are near each other, they'll interact with each other and spawn two baby bunnies. They are scared of Rabbit's Feet and are prey for most predators bigger than them.
In Scribblenauts Remix and Scribblenauts Unlimited, the models for Rabbit and Bunny are different.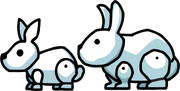 Trivia
Community content is available under
CC-BY-SA
unless otherwise noted.