m

Line 1:
Line 1:
 
+

{{Infobox

−

A Russian Blue looks much like the cat you get when you type just ''cat. ''The Russian Blue has the same behaviors as all the other cats. It does appear to be a grayish blue, hence its name.

 
 
+

|Box title = Russian Blue

⚫
 
 
+

|image = Image:Russian Blue.png

 
+

|imagewidth = 120

 
+

|caption = in Scribblenauts Unlimited

 
+

|Row 1 title = Type

 
+

|Row 1 info = Animal

 
+

|Row 2 title = Behavior

 
+

|Row 2 info = Docile

 
+

|Row 3 title = Synonyms

 
+

|Row 3 info = none

 
+

|Row 4 title = Available in

 
+

|Row 4 info = Scribblenauts, Super Scribblenauts, Scribblenauts Remix, Scribblenauts Unlimited, Scribblenauts Unmasked

 
+

}}The '''Russian Blue''' is a [[cat]] breed that comes in colors varying from a light shimmering [[silver]] to a [[dark]]er, slate [[gray]]. They develop close bonds with their owners and are sought out as pets due to their personalities, beauty and coat.

 
+
 
+

== Behavior ==

 
+

* This cat will be attacked by [[dog|dogs]], being scared of them. They eat [[Mouse (Animal)|mice]] and are attracted to [[yarn]].

 
+

* They will protect [[kitten|kittens]] and attack Maxwell, and any other NPC, that happens to attack or steal a [[kitten]].

 
+
 
+

== Gallery ==

 
⚫
 

[[Category:Poor quality images]]

 

[[Category:Poor quality images]]

 

[[Category:Animals]]

 

[[Category:Animals]]
---
Revision as of 16:22, 9 March 2018
Russian Blue


in Scribblenauts Unlimited

Type

Animal

Behavior

Docile

Synonyms

none

Available in

Scribblenauts, Super Scribblenauts, Scribblenauts Remix, Scribblenauts Unlimited, Scribblenauts Unmasked
The Russian Blue is a cat breed that comes in colors varying from a light shimmering silver to a darker, slate gray. They develop close bonds with their owners and are sought out as pets due to their personalities, beauty and coat.
Behavior
Gallery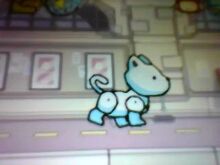 Community content is available under
CC-BY-SA
unless otherwise noted.