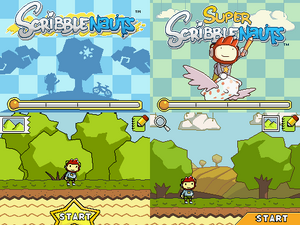 Sandbox mode (also called free play mode, title screen, title mode) is a mode that players can freely roam in the level/map. There are no objectives in the mode. It is accessible once the player has passed the intro. Players are invincible in this mode except some specific weapons (eg. nuke, tsunami, meteor, etc.) In this mode, players are also able to access 15 backgrounds.
There are sandbox levels in Scribblenauts Showdown.
Trivia
If you finish challenge mode, the upper screen changes.
The par is still limited in this mode. However they can be overcomed with some glitches. In Super Scribblenauts, it is removed and unlimited in all modes.
This is the most suitable mode for testing and finding new objects and its characteristics and such.
Avatars are disabled in this mode. If you get access to the secret levels by the teleporter and time machine, avatars are enabled. The secret levels are defined as Sandbox Mode due to having the same characteristics.
Community content is available under
CC-BY-SA
unless otherwise noted.