Seaplane


Scribblenauts Unlimited

Type

Vehicle, Air, Large

Behavior

Flies, Can be ridden

Synonyms

Hydroplane (Air), Amphibious, Amphibious Aircraft

Available in

Scribblenauts, Super Scribblenauts, Scribblenauts Remix, Scribblenauts Unlimited, Scribblenauts Unmasked, Scribblenauts Showdown, Scribblenauts Mega Pack
A Seaplane is a powered fixed-wing aircraft capable of taking off and landing on water. It is buoyant and cannot go underwater without the use of adjectives. The bottom of the plane is used to land and will not break the ship if it lands on water.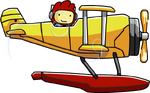 Community content is available under
CC-BY-SA
unless otherwise noted.