The
Sheep
is a domesticated ruminant animal with a thick woolly coat. It is kept in flocks for its wool or meat, and is proverbial for its tendency to follow others in the flock.
Behavior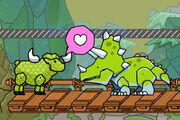 They have 50 health points, regular speed and their bash attack deals 10 points of damage. They protect both
rams
and
lambs
. The player can ride this creature without using a
saddle
. They eat
vegetables
and
small plants
. They will run away from larger predators, like
tigers
and
wolves
.
If you interact with a sheep while equipping scissors or shears, a wool will spawn near the player, in Super Scribblenauts they will get the naked adjective, however this was removed in Scribblenauts Unlimited. Sheep will become tamed when you a shepherd crook.
Male Variant
See: Ram
See Also
Glitches
Community content is available under
CC-BY-SA
unless otherwise noted.