Line 10:
Line 10:
 

|Row 4 info = [[Scribblenauts]], [[Super Scribblenauts]], [[Scribblenauts Remix]]|image = File:Meteor.png

 

|Row 4 info = [[Scribblenauts]], [[Super Scribblenauts]], [[Scribblenauts Remix]]|image = File:Meteor.png

 

|imagewidth = 55}}

 

|imagewidth = 55}}

−

Spawns a meteor that, when placed, disappears and showers the screen with small round meteorites. Only certain adjectives affect the shower, besides color and texture adjectives (EX: 'Big', 'Supersonic') . It does light damage. [[File:Meteor_Shower.png|thumb|255px|The shower in action.]]

+

Spawns a meteor that, when placed, disappears and showers the screen with small round meteorites. Only certain adjectives affect the shower, besides color and texture adjectives (EX: 'Big', 'Supersonic') . It does light damage. [[File:Meteor_Shower.png|thumb|255px|The shower in action.]]

 

[[Category:In the sky]]

 

[[Category:In the sky]]

 

[[Category:Apocalypse Items]]

 

[[Category:Apocalypse Items]]
---
Revision as of 19:40, 10 June 2012
Meteor Shower




Type

Sky Object, Apocalypse

Behavior

Spawns falling meteorites

Synonyms

Nebula, shooting star

Available in
Spawns a meteor that, when placed, disappears and showers the screen with small round meteorites. Only certain adjectives affect the shower, besides color and texture adjectives (EX: 'Big', 'Supersonic') . Using adjectives such as 'deadly' and 'flaming' cause no effect to the smaller meteors but the main object itsself. It does light damage.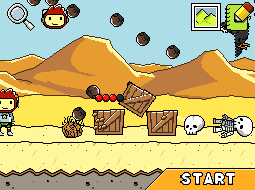 Community content is available under
CC-BY-SA
unless otherwise noted.