A surfer is someone who engages in surfboarding.
Both sprites are shared with Windsurfer.
Female Variant

The female surfer is completely different from, her male counterpart. She wears a brown two-piece bikini and her hair is a darker shade of brown.
Female Variant in Mega Pack / Showdown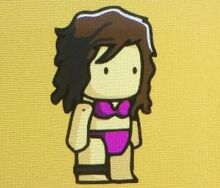 The female surfer in the mega pack / showdown is only slightly different from before.