m

 

(10 intermediate revisions by one other user not shown)
Line 1:
Line 1:
 
+

{{infobox

⚫
 
 
+

|image = File:Tail_Sitter.png

 
+

|imagewidth = 200

 
+

|caption = Scribblenauts Unlimited

 
+

|Type = Vehicle, Air, Propeller

 
+

|Behavior = Flies, Can be ridden

 
+

|Synonyms = None known

 
+

}}

 
 
−

[[File:IMG_0177.jpg|thumb|392px|It flies like that too.]]

+

[[File:.|thumb|| ]]

 
+
 
⚫
 
+
 
+

Unlike the coleopter, Maxwell's head is correctly rotated in this vehicle.

 
+
 
+

Despite it being a propeller driven aircraft, the model shows exhaust propellant coming from the rear of the vehicle.

 

[[Category:Vehicles]]

 

[[Category:Vehicles]]

 
+

[[Category:Planes]]

 
+

[[Category:Air Vehicles]]
---
Latest revision as of 17:38, 5 November 2020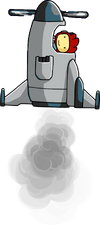 The Tail Sitter is a VTOL (vertical take-off and landing) vehicle. It has a rotor and tail fins and looks similar to the coleopter. It is likely based on the real-world Convair XFY Pogo.
Unlike the coleopter, Maxwell's head is correctly rotated in this vehicle.
Despite it being a propeller driven aircraft, the model shows exhaust propellant coming from the rear of the vehicle.
Community content is available under
CC-BY-SA
unless otherwise noted.