(4 intermediate revisions by 2 users not shown)
Line 1:
Line 1:
−

{{Infobox

+

{{

 
⚫
−

|Box title = Tandem Rotor

 
 
⚫
⚫
 
 
+

|caption = Scribblenauts Unlimited

⚫
 
 
+

|Type = Vehicle, Air, Propeller

⚫
 
 
+

|Behavior = Flies, Can be ridden

 
+

|Synonyms = Transport Helicopter

 
+

}}

 
+
 
+

[[File:Tandemrotor.png|left|50px|Old sprite]]

 
+
 
⚫
 
+
 
+

[[File:Tandem_Rotor_Usage.png|thumb|left|150px|Tandem Rotor in use]]

 

[[Category:Vehicles]]

 

[[Category:Vehicles]]

−

[[Category:Words]]

+

[[Category:]]

−

[[Category:Air Transport]]

+

[[Category: ]]

−

[[Category:Planes]]

 
---
Latest revision as of 21:35, 15 September 2019
The Tandem Rotor is a military helicopter that has two rotors as opposed to one. It only carries one person and has no weapons. It's fairly long and slow but it's big. If a soldier is by one, he will ride it. Also shows the model of a CH-47 Chinook.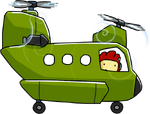 Community content is available under
CC-BY-SA
unless otherwise noted.