This is a guide (paper book) to the game
Super Scribblenauts
. Although it says just Super Scribblenauts on the cover, it also includes a complete walkthrough for the original
Scribblenauts
! This game guide was written by :Eve Eschenbacher.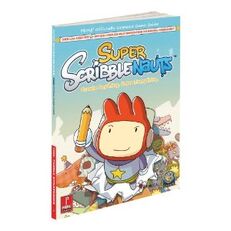 Walkthroughs:
Not only does it include one solution, but multiple ones!
Solution:
The guide will show acceptable words in red. It will show this in a list.
Crazy Solution:
This section includes a crazier, other solution. This comes in handy for Super Scribblenauts, for earning the hardest badge.
Level Editor:
This guide shows how to make a custom level, by going along with you to create a level. It includes complete details on the uses of the objects and how to script like a pro!
Bonus Material:
Interview:
The guide includes an exclusive interview between Jeremiah Slaczka and Prima Games!
Artwork:
This section includes concept art from the game Super Scribblenauts.
Word List:
Adjectives:
This is a (not complete list) list of adjectives available in Super Scribblenauts. This includes adjectives from A to Z. Scribblenauts Wiki also has a list of adjactives that can be found in the link A to Z.
Object Words:
This is a non-complete list of words that can come useful in Maxwell's quest for Starites. It includes smaller sections like Humanoids, Weights, Weapons, Explosives, and more! Scribblenauts Wiki also has categories containing words. Some categories may not be EXACTLY the same as the ones in the game guide.
Introduction:
An introduction to the Scribblenauts universe!
How To Play:
This section is on the controls the basics, and other info related to playing the game Super Scribblenauts.
Note that Scribblenauts Wiki is in no way associated with Prima Games, Eve Eshenbacher, Game Stop, Fifth-Cell, or WB Games. This is just an article noting the existance of other Scribblenauts related objects.
Community content is available under
CC-BY-SA
unless otherwise noted.