This is your user page. Please edit this page to tell the community about yourself!
When i joined: July 18, 2012
I like all the users here that are nice and freindly and funny! I Like adventure and playing scribblenauts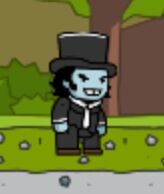 It's cool to join wiki. I promise to add cool info for all people to use!!!!!!! :D
Don't hesistate to put comments to my page!
But don't trash peoples page like that person Lilcutie4444. :( Not very nice to do to maxwell the scribblenaut. I heard about it 5 days ago.
Anyway, Feel free to add comments ;)
-Cody the cute chipmunk