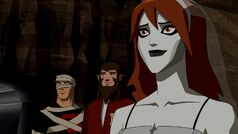 Hello! I am a transgirl named Megan who loves Miss Martian enough to base her entire future off of her!
Discoveries
I am the girl who discovered the hack free "@" Method for Scribblenauts Unmasked. See so below, as I typed on the page, or as I edited it on the "@" Method page.
"Go to a object under script in the hero creator, edit the script to the following:
When this object
is created
create an object (edit it to make it create angel wings)
Save and exit create an object and re-enter it you will see a @ next to angel wings. Then type in @genderblaster or some other @ object (see listing onsite) and exit the hero editor.
You can now summon them without it by using the repeat tool in the journal."