"Vell, Toastmonster's just zis guy, you know?"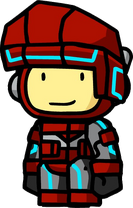 Lists of all objects in Scribblenauts Unlimited, broken down by category:
Notable Blog posts
---
Reached #7 rank on this Wiki within one week of joining
Reached #6 rank on this Wiki 8 days after joining
Reached #4 rank on this Wiki 14 days after joining
Reached #3 rank on this Wiki 23 days after joining
Reached #2 rank on this Wiki 43 days after joining
Reached #1 rank on this Wiki 53 days after joining
Became an Admin of this Wiki 64 days after joining
First user on this Wiki to earn the "God" achievement
Uploaded over 1000 1500 2000 2500 3000 images (and counting!)
Made over 5000 6000 7000 8000 OVER 9000 edits since joining this Wiki
---
Guide to capturing images from Scribblenauts Unlimited with Paint.NET
Why I hate working with infoboxes (and now work only in text mode)
---
Give Hansel and Gretal a GPS to find their way home, and what do they do?
---
Try to teach me a lesson, will you? Steal.. Use.. REVENGE!
---
This cat really doesn't want to let go of that tree!
Community content is available under
CC-BY-SA
unless otherwise noted.