I have extracted a list of every single object in the game. Here's a preview: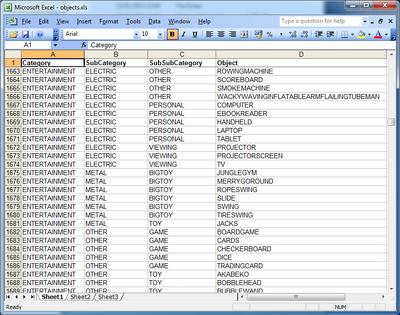 This spreadsheet has 6,065 rows.  Everything is in capital letters, and there are no spaces in any of the words.  They are still spawnable without the spaces.
Needless to say, this is awesome.
Edit: The list has now been processed and spaces added where needed and words converted to their correct capitalisation. Thanks to User:Nintendalek42, User:LargeVirus and User:Psychicken17 for their help with that!
I have created individual blog posts with all of the objects categorised. See the table below for links:
The one on my profile User:Toastmonster has indicators added for when an entire category has been completed, where a page with at least basic information exists for every item.
Note. This file does not contain any synonyms. If you know a word exists but it's not in this list, it probably means it's a synonym of something else that is in this list.
Note 2.  This file does contain some items that are not spawnable by normal means. They might be spawnable via the @ or @@ or $ methods described elsewhere on this Wiki.
Community content is available under
CC-BY-SA
unless otherwise noted.